Papdi chaat is a popular Indian street food snack filled with a variety of mouth-watering textures and flavors. Papri Chaat includes chickpeas, potatoes, various chutneys, yogurt, papdi, curd, sev and is garnished with coriander. Serve this tasty dish immediately as a snack.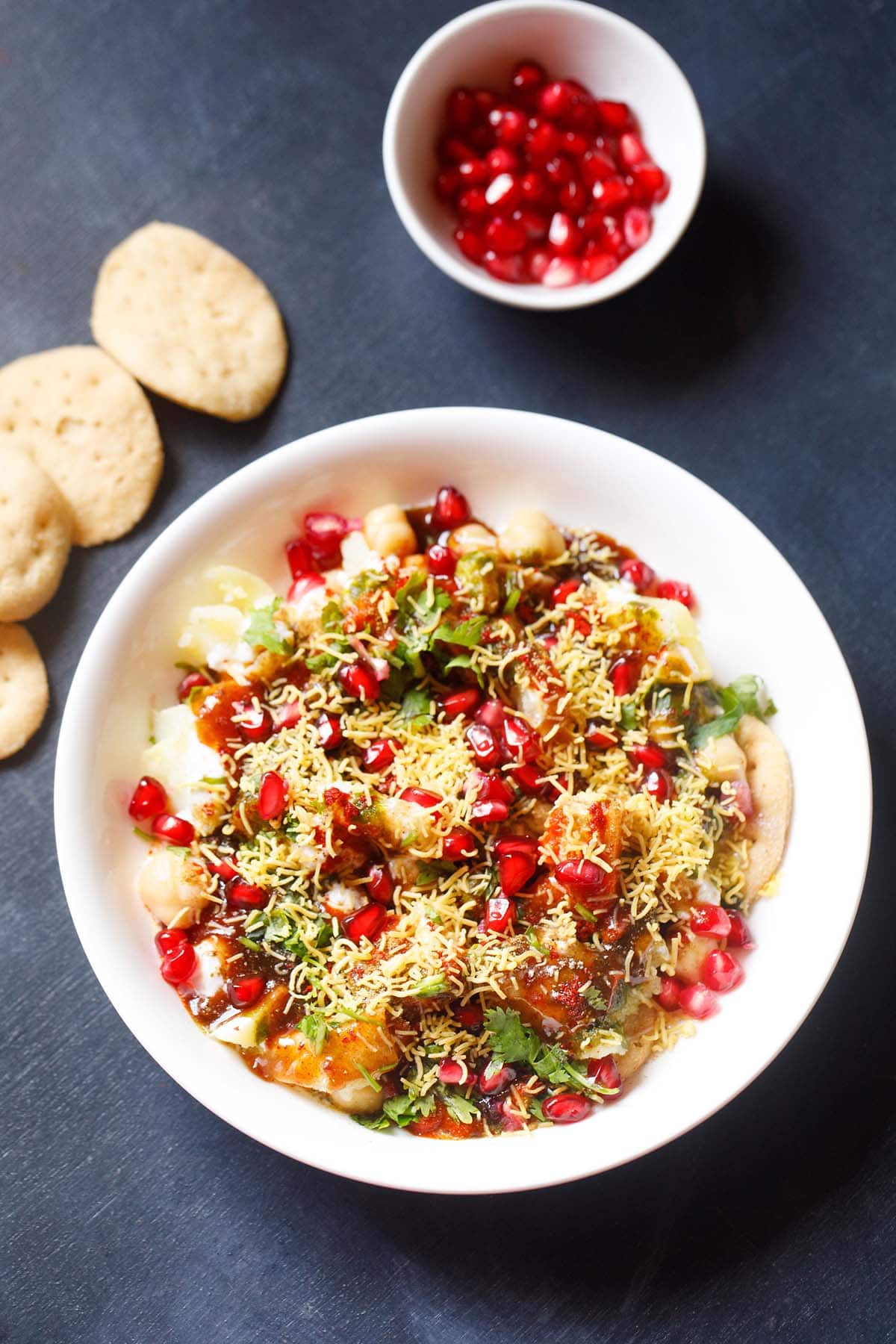 What is Papdi Chaat
Papdi or papri here refers to crispy fried flour crackers that are made with either whole wheat flour or all purpose flour. Chaat means an array of mouth watering snacks from the Indian cuisine. The word chaat also means to taste or to lick.
Papdi chaat is a popular and delightful North Indian street food snack that is made with papdi (a.k.a fried flour crispies or crackers), boiled chickpeas, potatoes, pakoris (fried black gram fritters), curd (yogurt), spices and various chutneys.
Papdi can be homemade or also store-brought. They are not difficult to make and you also have the option to either deep fry or air-fry or bake them. Papdi chaat made with baked papdi will be a healthier option. I have earlier shared the recipe for both fried and baked papdi. You can check it here at Papdi Recipe.
I still remember tasting Papdi chaat for the first time in a Punjabi restaurant in Mumbai and it was truly one of the best I had ever had! Being a true blue Mumbaikar, I have always made Sev puri, Pani puri, Bhel puri, Dahi puri at home, but I had never made papri chaat so I decided to give it a try.
In this recipe I have used all the ingredients except the Urad dal pakoris (urad dal fritters). The pakoris are made exactly like the bhalla made for Dahi bhalla. I did not have time to make the urad dal pakoris.
If you decide to make the pakoris, then after deep frying them, let them cool and then soak them in water for some time. Squeeze the water from the pakoris and add it to the papdi chaat before you top it with the curd and the chutneys.
Papdi chaat is not difficult or time-consuming to make and can easily be made at home. The first time I made chaat papdi I was really impressed and it tasted exactly like the one from the restaurant.
Step-by-Step Guide
How to Make Papdi Chaat
Cook Chickpeas and Potatoes
1. Start by prepping the ingredients for papdi chaat. You'll need cook dried chickpeas or canned chickpeas. I prefer to use cooked chickpeas, so I always soak them overnight or for 8 to 9 hours in water.
Rinse 1 cup of chickpeas a couple of times in fresh water. Then soak them in 3 cups of water overnight or for about 8 hours. Below is the photo of overnight soaked chickpeas in water.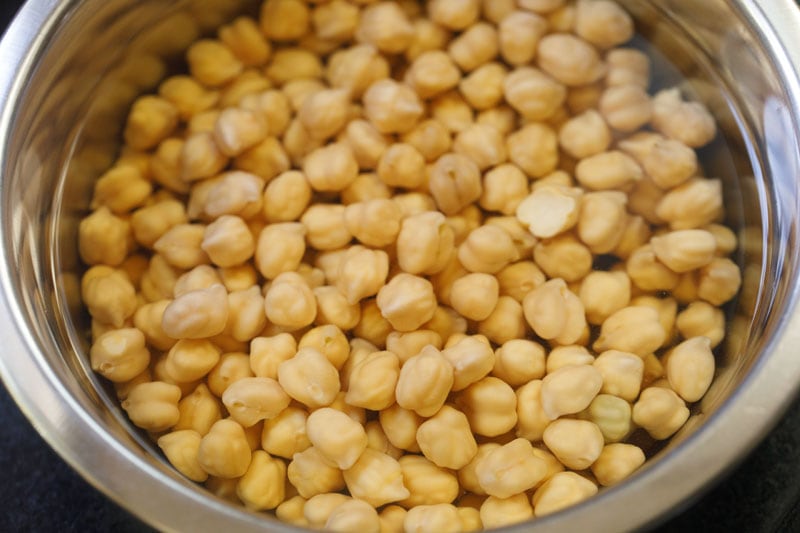 2. Once the chickpeas have soaked rinse them again, drain the water and add the chickpeas to a 2 litre stovetop pressure cooker with ½ teaspoon of salt.
Alternatively, if you are using canned chickpeas rinse and drain the water. Measure to get 2.5 to 3 cups of canned chickpeas and then move to step 10. But you will need to cook the potatoes if you plan to add them. So either steam them or cook in a pan or pot.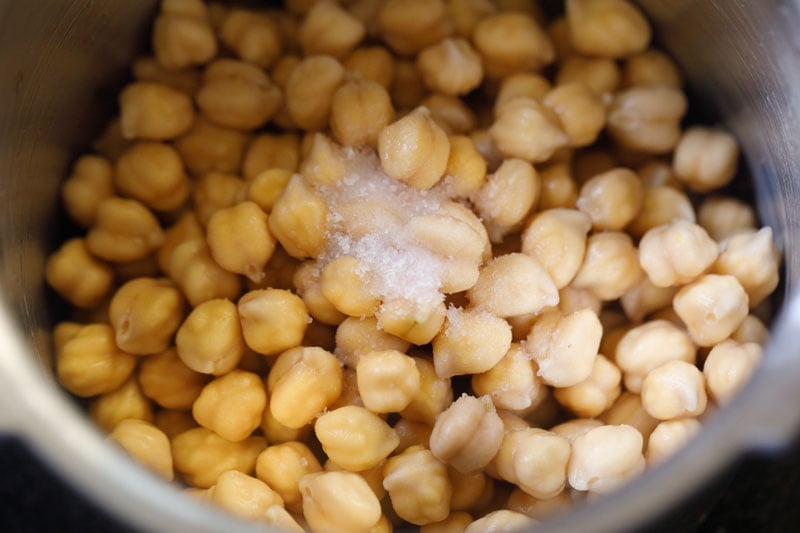 3. Add 2 cups of water.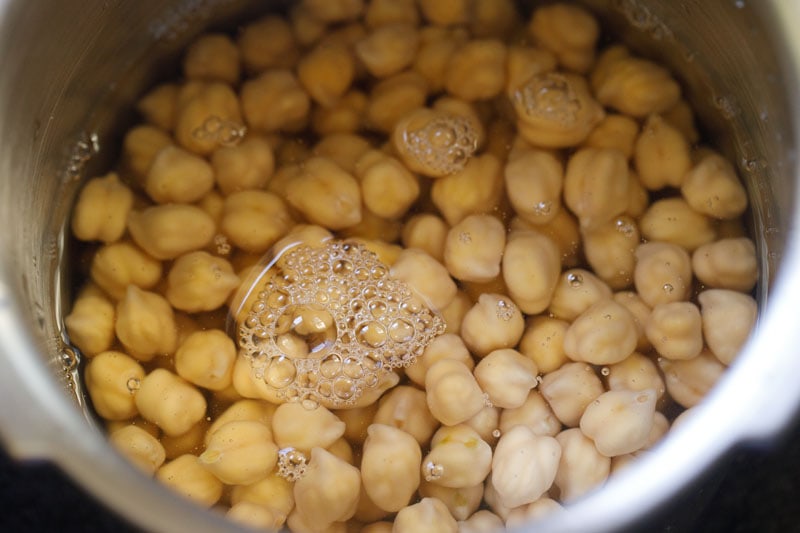 4. Place a steel bowl on the chickpeas in the cooker. Then rinse and place 1 medium-sized potato inside the bowl. The potato and chickpeas will be cooked together.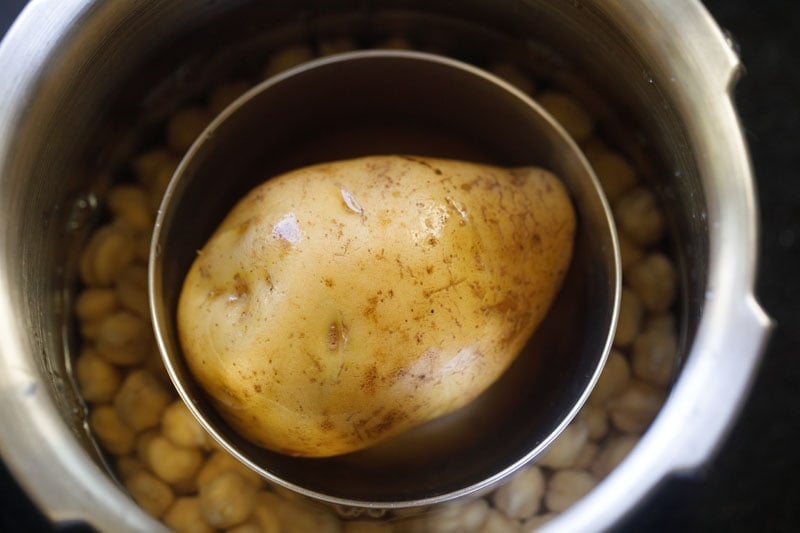 5. Cover the cooker tightly with the lid and pressure cook on medium heat until the pressure starts building and you hear the hissing sound in the cooker. Then lower the heat a bit and pressure cook for 10 to 12 whistles.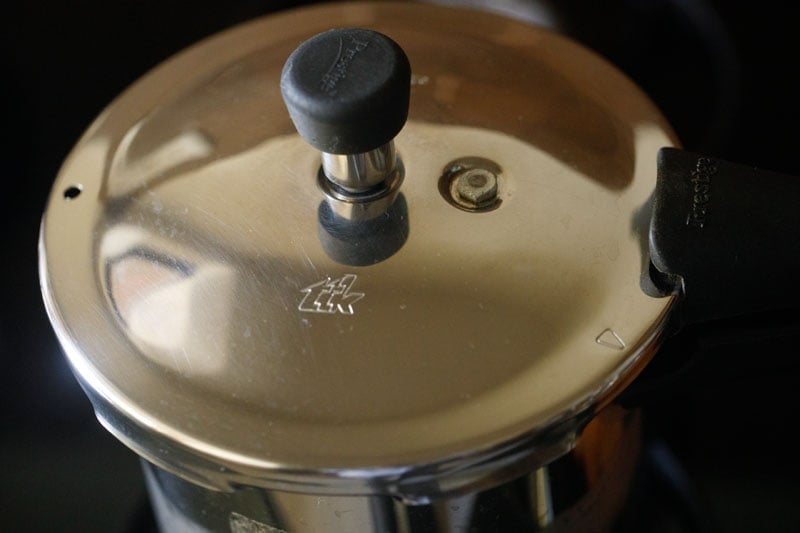 6. When the pressure settles on its own in the cooker then only remove the lid.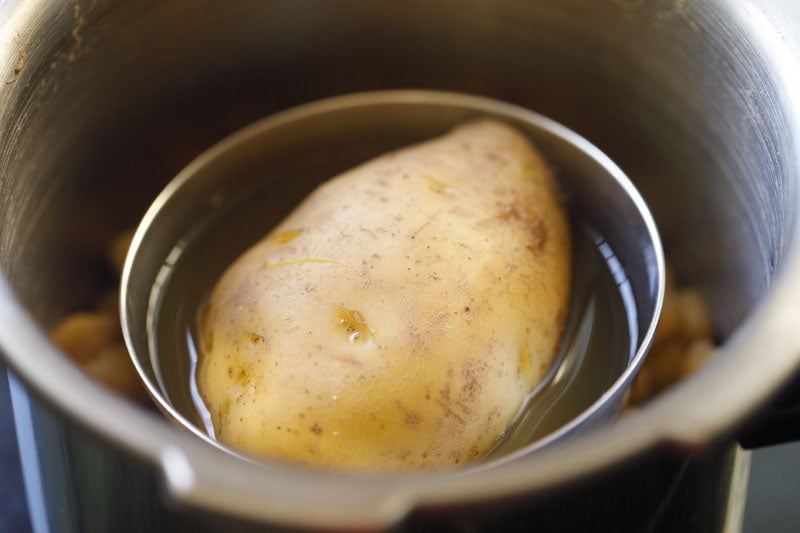 7. Check the potato by piercing it with a knife or fork. It should be tender and softened and the knife should easily pass through it. Lift the potato with a pasta tong and set it aside to cool at room temperature.
8. Check to see if the chickpeas are cooked. They should have a soft melt-in-the-mouth texture.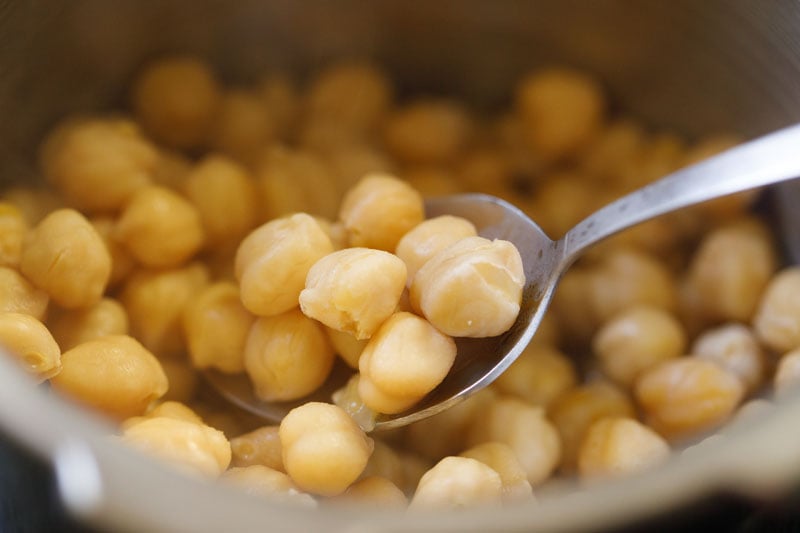 9. Drain the water and set the chickpeas aside.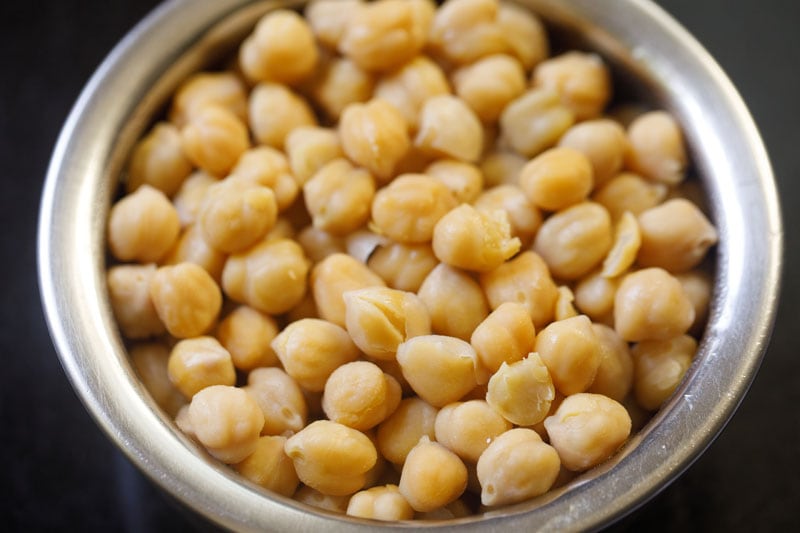 More Papri Chaat Prep Work
10. Prep the chutneys for the chaat. Make them a day ahead or make them while the chickpeas are cooking. The chaat chutney recipes are listed in the recipe card below.
You can add green chutney and tamarind chutney. But feel free to skip the red chili chutney if you don't like your papri chaat to be spicy and pungent.
11. Once the potatoes are warm peel and chop them into small cubes.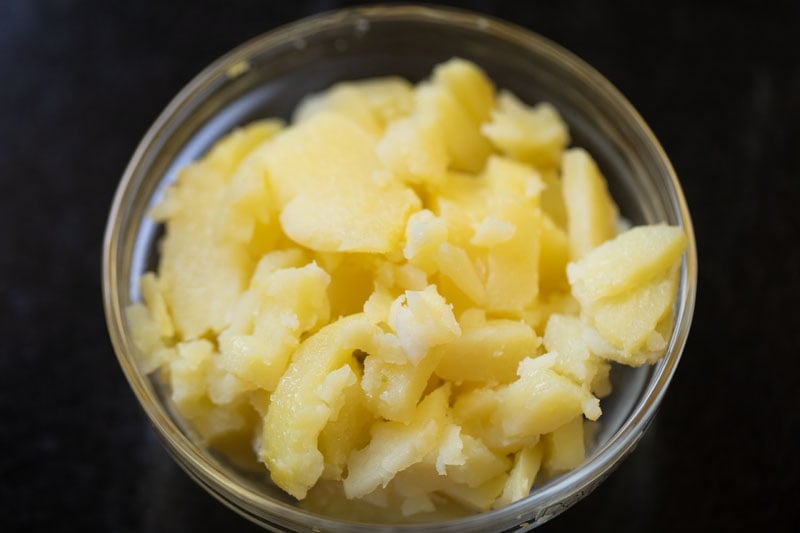 12. In a separate bowl, beat 1 cup of curd (yogurt) using a spoon or wired whisk until smooth. Ideally the yogurt is cold or chilled when making papdi chaat. But you can opt for a room temperature yogurt.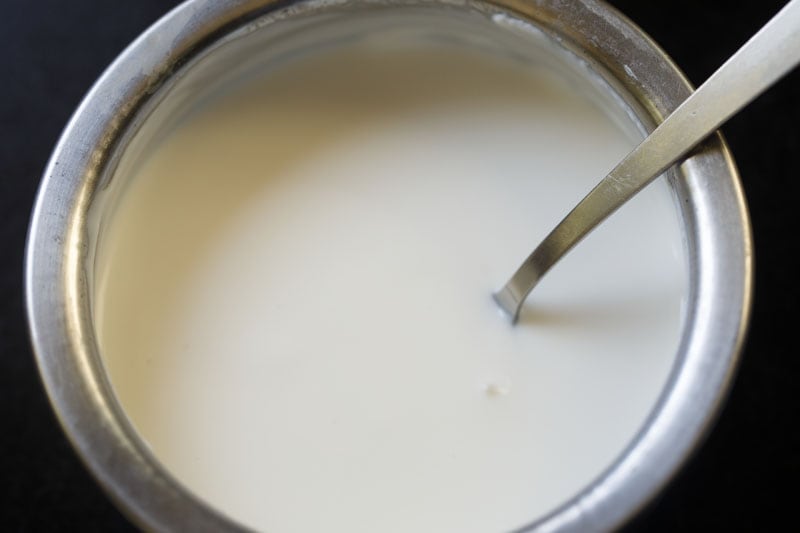 Make Papdi Chaat
13. Arrange 6 to 8 papdi in a shallow bowl or plate.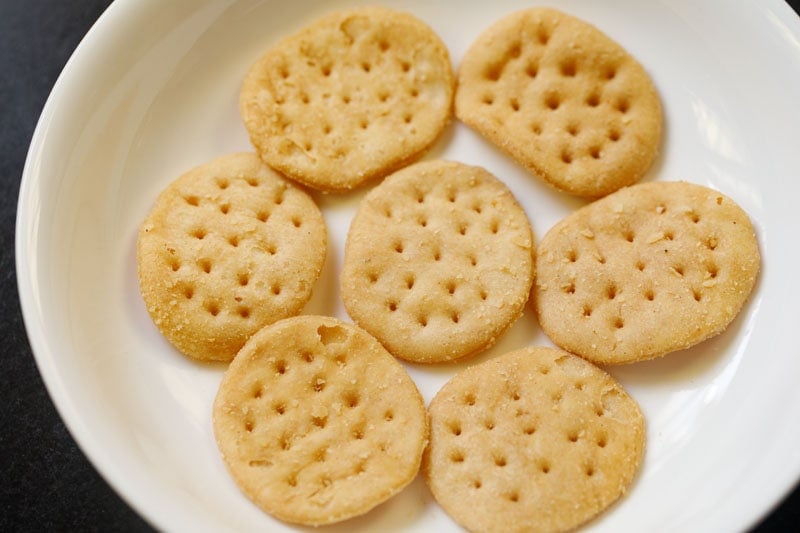 14. Top the papdis with boiled potatoes and boiled chickpeas. At this stage, you can also add some finely chopped onions and tomatoes. Onions add a delicious crunch to the chaat papdi while tomatoes add a sweet tangy flavor.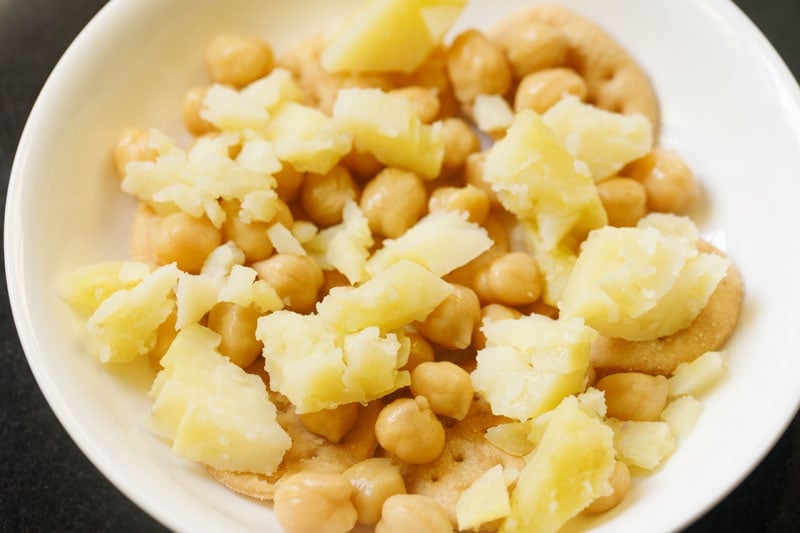 15. Add a generous amount of freshly beaten curd.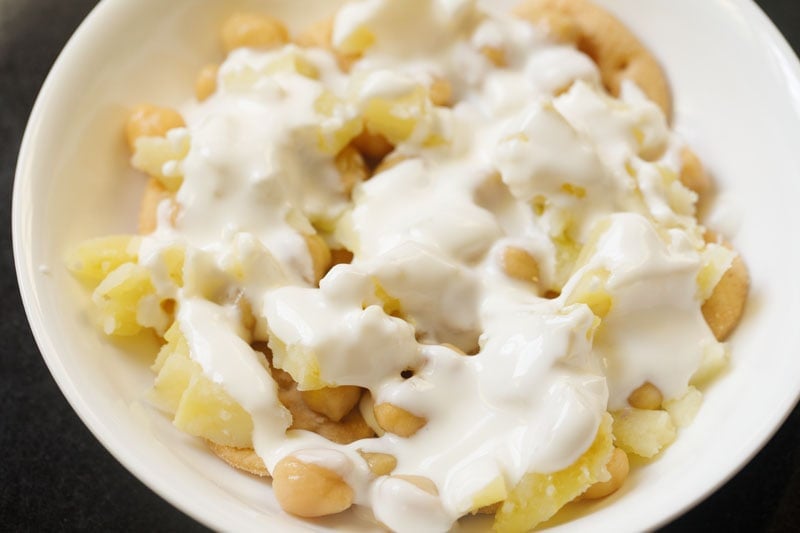 16. Add 1 to 2 tablespoons of green mint coriander chutney, 2 to 3 tablespoons of sweet tamarind chutney and 1 to 2 teaspoons of spicy red chili garlic chutney.
Tip: Feel free to add less or more of each chutney depending on your preferred taste.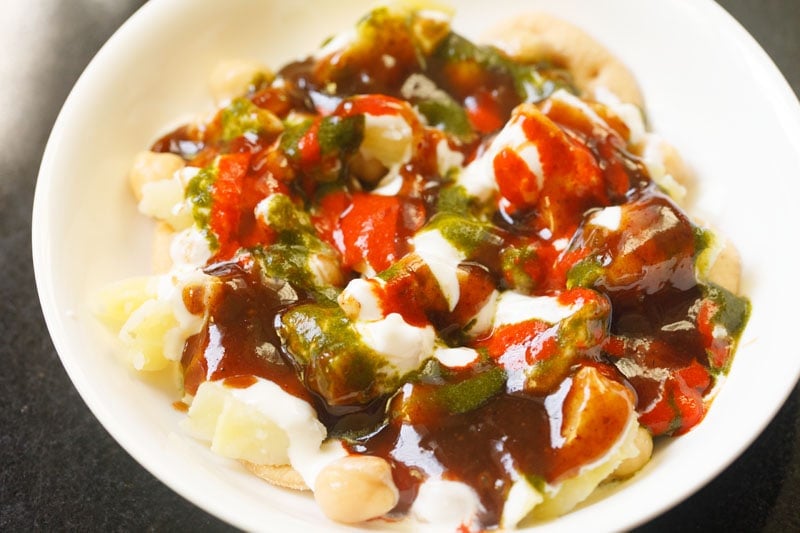 17. Sprinkle a few pinches of ground spice powders such as chaat masala and roasted cumin powder. Then season it with a few pinches of black salt or regular salt.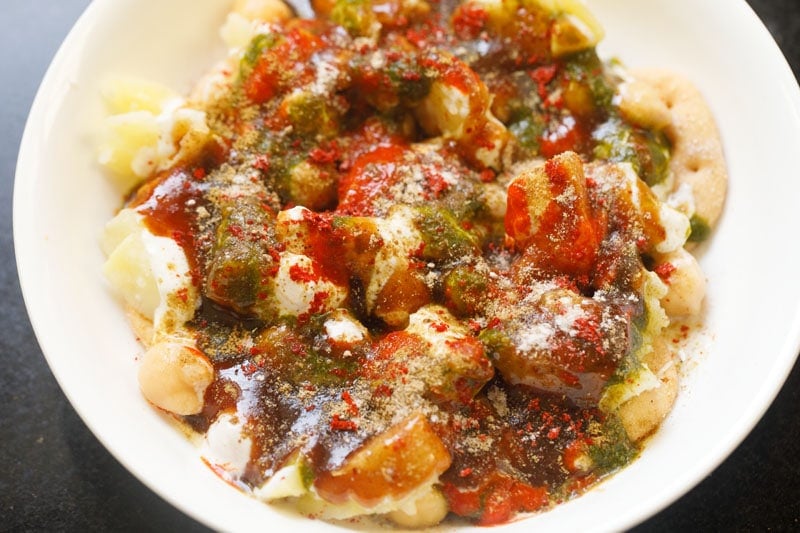 18. Garnish papdi chaat with chopped coriander and pomegranate seeds to add beautiful colors and delicious textures. If you do not have pomegranates then skip them.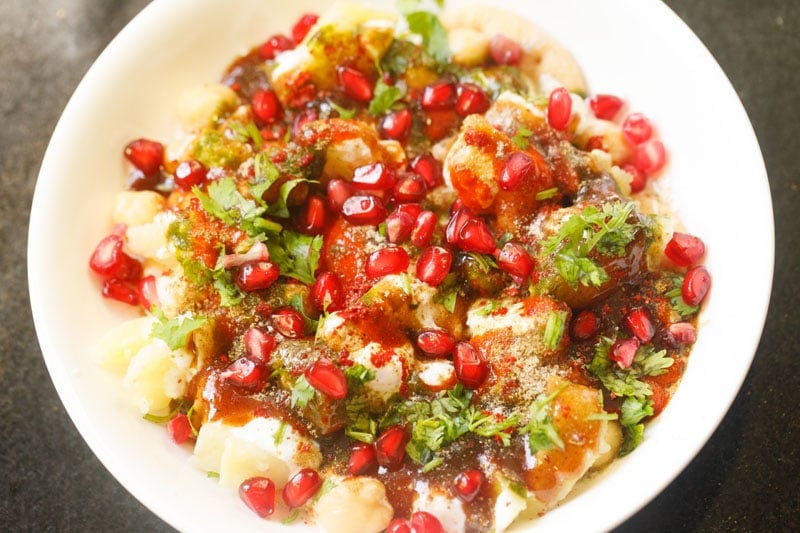 19. Opt to add sev for some color and crispiness.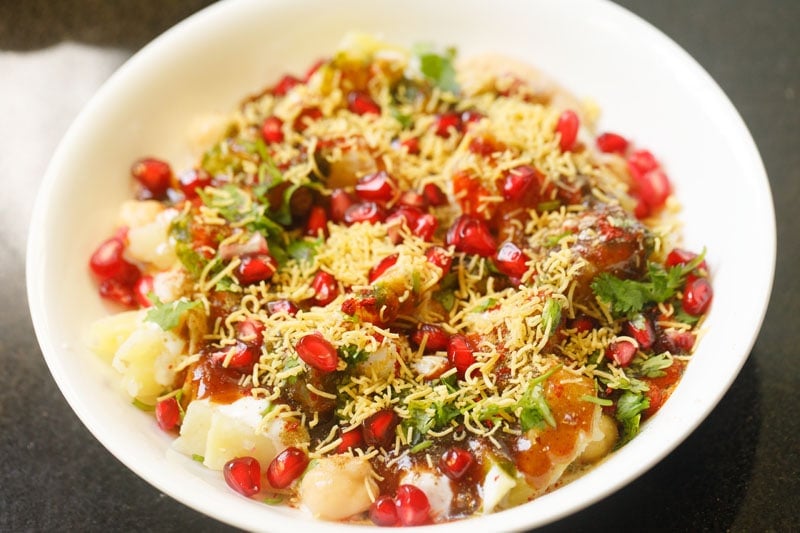 20. Serve papdi chaat immediately to ensure that it stays crispy. If papdi chaat is left for too long it may become soggy.
This way you can assemble the papdi chaat for your family or friends. Or choose to fill the various chaat elements in separate bowls and place them on the dining table – so that the people can assemble and make the papri chaat for themselves.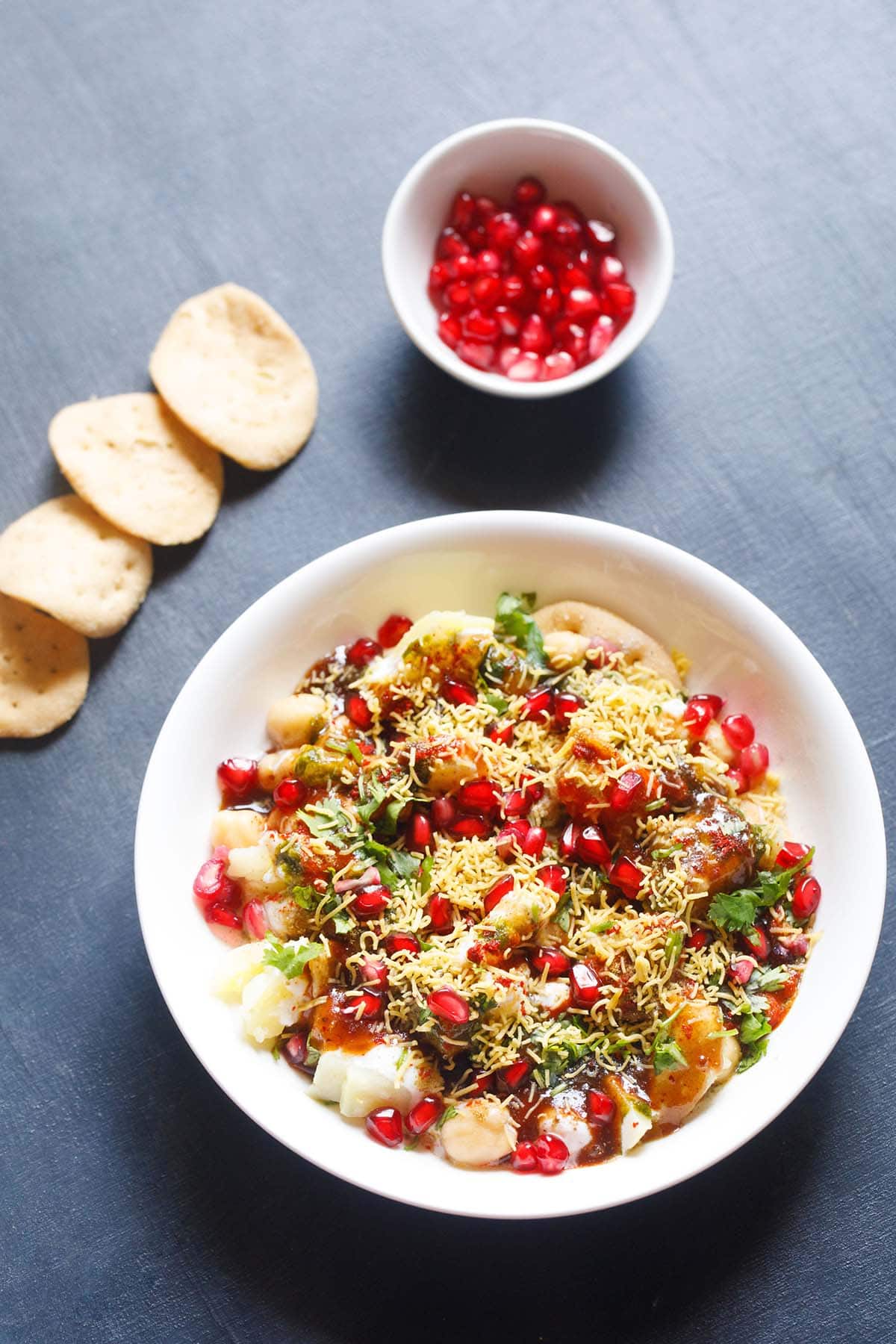 Expert Tips for Chaat Papdi
Healthy papdi: If you would like to make healthier papdis bake them instead of frying them. This will result in less greasy papdi. To make papdi chaat even more nutritious add fruit and vegetables like moong sprouts and pomegranates.
Serve: To get the best results serve the papri chaat straight away. Avoid leaving it out for some minutes because it will become soggy and won't be as enjoyable.
Substitutions: If you don't have pakoris then feel free to substitue it with boondi. Before adding the boondi to the papdi chaat, soak the boondi in water and squeeze the water from the boondi.
Variation: It is very easy to customize aloo papdi chaat to your taste. For example, omit the pomegranates if you don't have any to hand, add less or more of your favorite chutney and add sev for extra crispiness. It is completely up to you!
FAQs
Can I get all the elements ready and have the guests assemble their own plates when serving papdi chaat? 
Yes, it is better to let the guests assemble the aloo papdi chaat because they will become soggy if they are left out for some minutes. For assembling add spice powders and salt, curd, cooked chana and boiled potatoes in separate bowls. Make sure you place the bowls in the correct order.
What is Papdi made of?
Papdi are made with whole wheat flour or all purpose flour and sometimes spiced cumin or carom seeds or both. They are small round savory crackers that are deep fried. You can buy them in grocery stores or supermarkets or sweets shops if you live in India or make at home. If you live outside then look for them in Indian grocery stores or buy online.
Papdi is often added to chaat snacks like bhel puri, ragda chaat, sev puri and dahi bhalla. They can also be eaten as is like a crispy cracker or served as a side with a cup of Indian chai.
Is papdi chaat healthy?
Some of the elements of papdi chaat like chickpeas, veggies, chutneys, curd are healthy. If you make this snack with baked papdi and baked sev or omit the fried sev, then it becomes healthy.
Are papdis available in regular grocery stores?
Yes, papdis are available in some Indian grocery stores but you can also make them at home if you have time.
If you made this recipe, please be sure to rate it in the recipe card below. Sign Up for my email newsletter or you can follow me on Instagram, Facebook, Youtube, Pinterest or Twitter for more vegetarian inspirations.
Papdi chaat is a popular North Indian street food snack filled with a variety of mouth-watering textures, flavors and consists of papdi (fried flour crackers), boiled chickpeas, potatoes, chutneys and curd (yogurt.
Prep Time 50 mins
Total Time 50 mins
---
---
Servings 4
Units
For the spicy green mint and coriander chutney
For the sweet tamarind dates chutney
Prevent your screen from going dark while making the recipe
Cooking the chickpeas
If you wanna add chickpeas to the papdi chaat, then some effort is needed. This is if you don't want to use canned chickpeas.

You need to soak the chickpeas in enough water overnight or for a good 6-7 hours. Then cook or pressure cook the chickpeas with water and salt/black salt till it is completely cooked.
Making the green mint coriander chutney
Making the sweet tamarind dates chutney
Boil the tamarind and dates in water.

When they become soft add the jaggery and the spice powders and salt.

Cook further till the jaggery melts.

Switch off the burner and let the mixture cool.

Grind the chutney mixture to a smooth paste. Seive the chutney through a strainer. Add more salt if needed.

If the chutney becomes too thick add some water to liquidize it.
For assembling the papdi chaat
Arrange the papdis in a shallow bowl or plate.

Top it up with chopped boiled potatoes and cooked chickpeas.

You can add chopped onions and tomatoes to it, but its optional.

Sprinkle some chaat masala and red chili powder on it, if you want at this stage.

Top these with cold yogurt/curd as much as you want.

Top it up with the green chutney as much as you want.

And then with the sweet chutney as much as you want.

Sprinkle some chaat masala, red chili powder, cumin powder and black salt.

Garnish with coriander leaves. Sprinkle sev on top and this step is also optional.

Add a dash of lemon juice to the papri chaat if you want.

Serve papdi chaat immediately.
Like our videos? Then do follow and subscribe to us on youtube to get the latest Recipe Video updates.
All our content & photos are copyright protected. Please do not copy. As a blogger, if you you want to adapt this recipe or make a youtube video, then please write the recipe in your own words and give a clickable link back to the recipe on this url.
This Papdi Chaat post from the archives (November 2011) has been republished and updated on 29 September 2021.